One of the top secrets to teaching your baby to read?  Toys.  Did I say toys?  Yes.  Yes toys can teach your baby to read.  If you are a parent today, it is highly likely that your child will play with toys.  One of the biggest protests to teaching young learners is that they're attention span is limited, and parent's time is usually limited too.
To get the most out of your time and your baby's attention, merge as many objectives as possible.  When it is time to play independently (or with parents) with toys, why not learn as well?  Below are my top suggestions for most useful learning toys.
Puzzles
Puzzles are great learning tools in general.  Puzzles teach focus and they use a lot a baby brain power.  They exercise critical thinking and problem-solving ability.  Best of all?  Puzzles are quiet and they teach kids to play quietly.
In particular, The Learning Journey puzzles below teach children the basics of phonics and spelling.
Puzzles strengthen kids' fine motor skills, encourages them to practice making phonetic sounds, and allows them to hear themselves speaking.  It also builds vocabulary by introducing them to new words and these puzzles assist you, the parent, in playing with your child without the strain of creating activities.
These puzzles obviously teach spelling.  They also build vocabulary and exercises fine motor skills.
Interactive Toys
I love this toy because it is simple and it teaches your children the basics of phonetic sounds and models speaking for them.  There is also a feature that teaches children to spell words and they love that it lights up and tells funny little "jokes".  This toy is especially great for children having difficulty with speaking.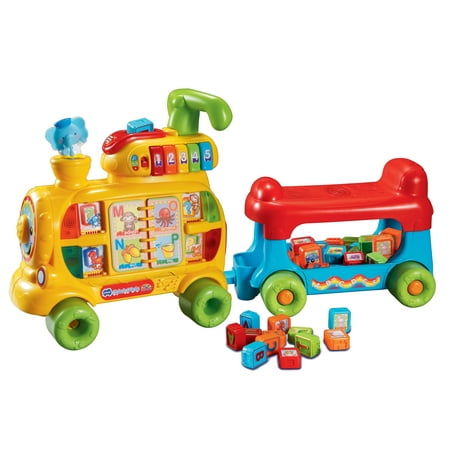 Teaches: When your child places letters in the talking compartment, they learn the sound the letter makes.  The toys' encouragement to sit and ride, and to walk behind the train encourages and develops gross motor skills.  My kids' favorite feature was the trains' top opening that allowed them to feed in letter cubes and watch them pop out into the train's wagon.  This feature exercises their fine motor skills.
For parents: Because of the multi features AND the fun little noises it makes, this toy keeps your child's attention for hours.  All of that time they are learning.  It is also fun for adults to play with which makes your play time with them authentic and uncomplicated.